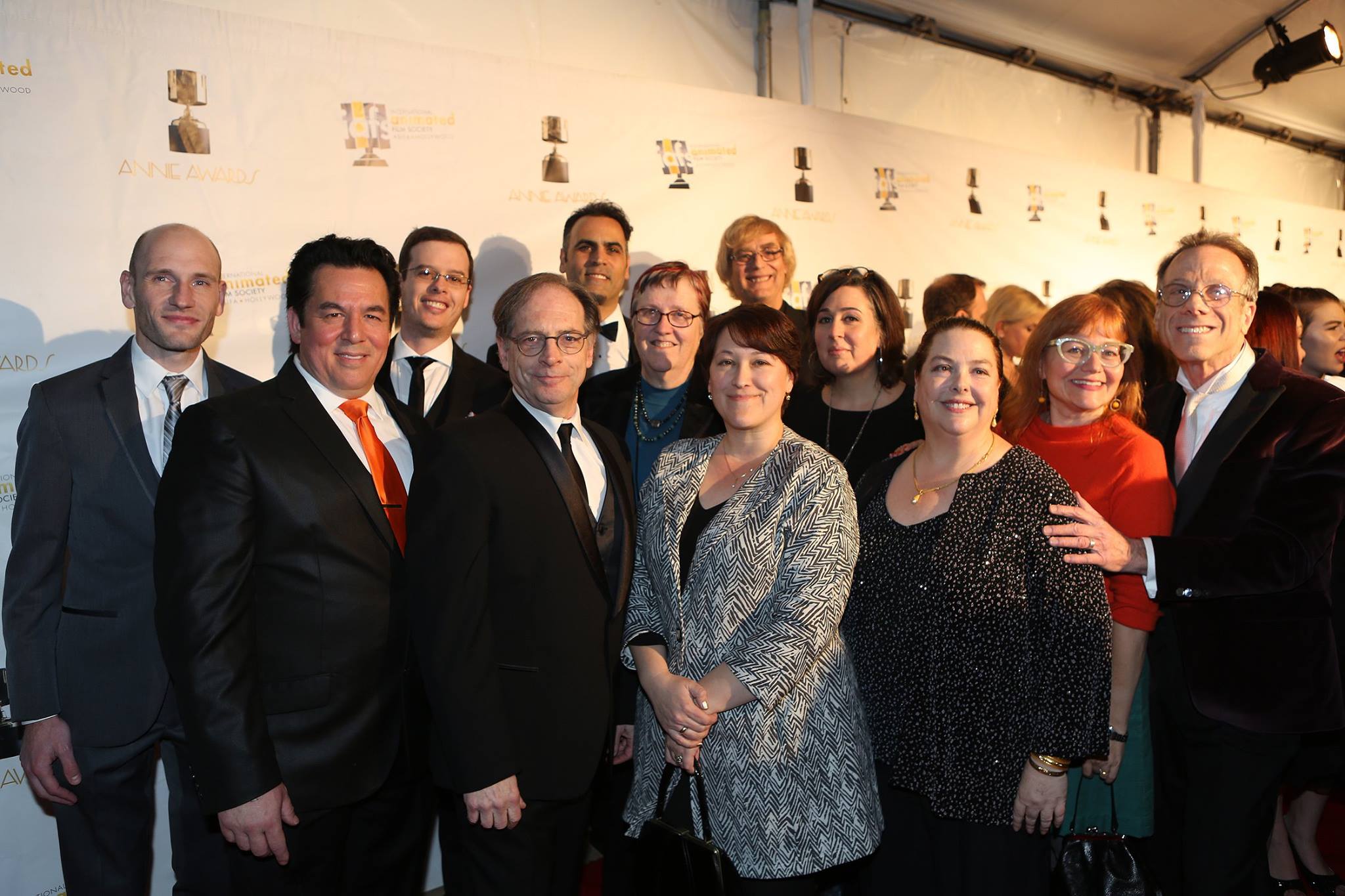 EXECUTIVE DIRECTOR — Frank Gladstone has been working as a professional animator, producer, director, writer and teacher for nearly 40 years. From 1973 to 1989, he managed his own Emmy award winning studio, Persistence of Vision, producing commercials and educational films, and has since held management positions for Disney, Warner Brothers and DreamWorks, among others. He is currently the CEO of his own company, Gladstone Film, consulting on animation, filmmaking skills and story structure at major studios world-wide. Additionally, Frank continues to teach about animation, film history, production techniques and cinematic fundamentals at studios, secondary schools, colleges and professional guilds around North America, in Europe, Asia and the Caribbean. Frank has served on the board of directors of ASIFA Hollywood and the Visual Effects Society.
PRESIDENT —Jerry Beck is a well-known animation historian and cartoon producer. His twelve books on the subject include The Animated Movie Guide, Looney Tunes: The Ultimate Visual Guide and The 50 Greatest Cartoons. He is a former studio exec with Nickelodeon and Disney, and is currently a consulting producer to Warner Bros., Universal and Disney for their classic animation DVD compilations. Beck has programmed retrospectives for the Annecy and Ottawa Animation Festivals, The Museum of Modern Art and the Academy of Motion Picture Arts & Sciences. He has taught animation history at NYU, SVA, the AFI and UCLA. He is also the co-writer of the animation blog Cartoon Research.

VICE PRESIDENT — David Derks joined ASIFA-Hollywood in 2003 due to his love for animation. After seeing opportunities within the organization he volunteered wherever he could and due to his efforts, he was elected in as a member of the board and was presented with a Certificate of Merit. Currently, David is a digital producer at Twentieth Television, as well as digital producer for EuroPacific Films. He was previously at ABC Studios and was involved with shows like Desperate Housewives, LOST, Alias, Grey's Anatomy, According to Jim and Jimmy Kimmel Live, as well as television miniseries like Muppets' Wizard of Oz and Stephen King's Kingdom Hospital. Additionally, David is also producing animation for an independent film that's currently in post production.
CHIEF FINANCIAL OFFICER — Jeff Wike is currently serving as Director of Research and Development for Dreamworks Animation in charge of the technology in support of previz, layout, character setup and animation. Jeff joined DreamWorks in 1996 and has been credited on Shrek Goes Fourth, How to Train Your Dragon, Monsters vs. Aliens, Madagascar 2: The Crate Escape, Kung Fu Panda, Shrek the Third, Flushed Away, Over The Hedge, Madagascar, Shark Tale, Sinbad, Spirit: Stallion of the Cimarron, The Road to El Dorado and The Prince of Egypt. Prior to DreamWorks, he had an extensive career in technology developing software for the department of defense, NASA's Jet Propulsion Laboratory, developing the first expert system to fly on the Space Shuttle, and leading many R&D projects for TRW in the area of 2D and 3D image processing, robotics and artificial intelligence. Jeff received his Bachelor of Science in Engineering from the U.S. Military Academy at West Point and his Masters in Computer Engineering from the University of Southern California. He is an active member of the VES, and has been on the board of ASIFA-Hollywood for the past 4 years.

SECRETARY — William C. Turner joined ASIFA-Hollywood as a student and a fan in 1978. Almost immediately he began volunteering, helping at Annie Awards, cel sales and anywhere he was needed. In the early 1990's Bill was asked to join the Board of Directors as Secretary and to take control of the memberships. Since that time membership has grown from about 800 to over 4500. Bill used the networking opportunities of ASIFA-Hollywood to land a job in animation in 1993, first as a runner, but soon moving into production as a coordinator, technical director and production manager. He has been happily and steadily employed by Walt Disney Television Animation since 1998.

Jamie K. Bolio's industry work continues with extensive travel and projects of merit and unique appeal. Jamie's artistic credits include animated feature, short, and television, mixed-media special project and commercial – and documentary feature and short. With a passion for the craft, deep-roots in the industry, and a trusted aesthetic for film, Jamie is often tasked in an international search for independent, high-quality, artistically-driven content.
She founded 62 GEORGE STREET, which specializes in the global representation and promotion of the independent film, filmmaker, studio and creative.
Since 2009, Jamie has worked with the NY-based distribution company GKIDS on their awards and promotional campaigns for the Oscar®-nominated animated features: THE SECRET OF KELLS, A CAT IN PARIS, CHICO & RITA, ERNEST & CELESTINE, THE TALE OF THE PRINCESS KAGUYA, SONG OF THE SEA, WHEN MARNIE WAS THERE, and BOY AND THE WORLD.
Jamie represents the Oscar®-nominated Irish studio, Cartoon Saloon for Business Development, PR & Marketing – and during the awards and promotional season, she represents the qualifying short films of the National Film Board of Canada. Jamie has also been named Director of Marketing and Content Acquisition for CRAFT, a curated digital library and subscription-based platform showcasing resource files, pre-production and production art from a growing selection of the industry's most revered independent animated films, games, graphic novels and artists.
Jamie and her co-production partners, Paper Panther Productions, will soon begin development on their upcoming feature documentary.

Tom Caulfield brings with him many years of experience. Originally from Dublin, Ireland, he has worked on three different continents and learned all facets of the animation industry in many different roles, such as Lead Animator, Character Designer and Director at studios like Disney, Disney Australia, Reel FX and DreamWorks. He is currently a director for Disney TV.
He fully embraces the independent film making side of the industry. Recently, his animated independent short film that he took from conception to completion won best first short at the Galway Film Fleadh.
Since leaving College he's been fortunate enough to work on the Oscar-nominated L'Illusionniste and The Secret of Kells, as well as Zarafa, Mickey, Donald and Goofy The Three Musketeers and The Book Of Life.

Dori Littell-Herrick is the Chair of the Department of Animation in the School of Media, Culture & Design at Woodbury University. She returned to academia in 2005 after 28 years in the animation industry as an artist, production manager and creative executive. As an animation artist, her credits include Ferngully the Last Rainforest (Kroyer Films), National Lampoon Christmas Vacation title animation (Kroyer Films), The Little Mermaid (Disney Studios) and various commercials including iconic characters such as Trix Rabbit, Keebler Elves, Tony the Tiger, Dig'm the Frog, Raid Bugs and Snap, Crackle and Pop. As a production manager, Dori worked on Eight Crazy Nights (Sony), Jimmy Neutron: Boy Genius (Marina Motion), Osmosis Jones (WB), Quest for Camelot (WB), Aladdin Video Game (Metrolight Studios), Beavis and Butthead (Metrolight Studios), Ren and Stimpy (Metrolight Studios). As a producer in development at Warner Bros Feature Animation, Dori managed the creative development of feature films and short projects. She holds a Bachelor of Arts in Telecommunications from Indiana University and a Master of Fine Arts in Theater, Film and Television from UCLA with a concentration in animation. Currently she teaches the Junior Studio, guiding students through the collaborative process of creating a short film and taking it through production. She also co-chairs the ASIFA-Hollywood Animation Educator's Forum.

Attorney B. Paul Husband joined ASIFA-Hollywood as an animation fan in 1990. He participated in presenting programs at ASIFA-Hollywood meetings and functions such as the Animation Opportunities Expo and in the ASIFA-Hollywood portions of the World Animation Celebrations. Inspired in his participation in the world of animation by his association with ASIFA-Hollywood, in 1995 he co-founded AniManagement LLC, a talent agency devoted to serving artists and writers involved in animation. He worked in the animation field as a licensed talent agent until 2000. He continues to represent producers, directors, artists and writers as an entertainment lawyer. He has also been involved with the Annie Awards in multiple functions, including as a judge in several categories over the years. In the early 1990s he began attending to the legal needs of ASIFA-Hollywood as a volunteer. In 1997, he formed ASIFA-Hollywood's sister organization, the ASIFA-Hollywood Animation Aid Foundation. He also served as a Director of ASIFA-Hollywood from 1995 until 2000. In 1998, Mr. Husband was honored by receiving the ASIFA-Hollywood Certificate of Merit. Paul has served ASIFA-Hollywood as General Counsel since 2000.

Brooke Keesling is the Director of Animation Talent Development at Disney Television Animation. She works closely with production and development, providing talent for current series such as Gravity Falls, Star and the Forces of Evil, Wander Over Yonder, Penn Zero: Part Time Hero and the Mickey shorts.
Prior to joining Disney, Brooke was the Manager of Animation Talent Development at Cartoon Network Studios for four years. Brooke earned her MFA in animation at CalArts where she produced several films including the student Oscar winning animated short, Boobie Girl. Upon graduation,  she worked in practical and miniature visual effects on tentpole films such as Inception, Hugo, The Dark Knight and The Aviator. Passionate about education and outreach, Keesling is also a professor in the Character Animation department at CalArts and she sits on the Board of Directors for ASIFA Hollywood and GLAS Animation.

Jennifer Cardon Klein is a producer and animator and has worked extensively in feature animation, storyboarding and animating for studios like Disney and Warner Bros. She is known for her work on The Iron Giant, The Emperor's New Groove and Space Jam.
Some of her other films include Home on the Range, The Road to El Dorado, Candyman, One by One, Pups of Liberty, Boys Night Out and The Chestnut Tree. Jennifer also appears in the television short The Making of 'The Iron Giant'.

Aubry Mintz is a traditional and CG director/animator/storyboard artist. Hailing from the acclaimed Sheridan College Classical Animation Program in Canada, Aubry has worked in the US, Canada and India on productions for film, television and the Internet. Aubry earned his stripes in the animation industry by working for George Lucas' special effects company, Industrial Light & Magic (The Mummy) and Square USA (Final Fantasy: The Sprits Within). Aubry was also heavily involved in ILM's professional project program, where he helped storyboard and direct his own and other animated short films. Following his dream to be a film maker, Aubry returned to Canada to start his own production company Big House Animation, directing short animated and live action films, supervising/animating and storyboarding on projects for such clients as VH1, Smirnoff and General Mills. Aubry has also traveled abroad to India where he directed, developed and taught Animation workshops at several studios. Aubry Mintz is currently teaching full time in the Illustration/Animation Dept. at California State University, Long Beach. Passionate about animation as an art form and the synergy of collaboration, Aubry has produced 16 short films and continues to direct and animate every year.

Sue Shakespeare is a veteran animation producer and runs the show at Creative Capers Entertainment, one of the most successful independent animation studios in Hollywood today, which she founded in 1988. Through Creative Capers, Sue has been at the forefront of the animation world, managing animation and design projects ranging from feature films to television shows, from interactive experiences to videogames.  With over three decades experience and a myriad of projects under her belt for Disney, Sony, Warner Brothers, Universal, MGA, Fox, Lego and many others – Sue is one of the most respected producers in the family entertainment industry today. Sue has worked with many of animation's beloved and famous character franchises including: The Lion King, 101 Dalmatians, The Incredibles, Winnie the Pooh, Ice Age, Alvin and the Chipmunks, Mr. Magoo, The Bionicle Trilogy, Beauty And The Beast, The Pink Panther, The Little Mermaid, and Aladdin to name a few. Sue has also had a successful career as a writer, and in developing original Intellectual Properties which are then turned into movies and television series. Sue began her career at the Don Bluth Studio where she worked on classics like: The Secret of NIMH, An American Tail, The Land Before Time, and Dragon's Lair. She was one of the founding board members of the Academy of Interactive Arts and Sciences (AIAS), and has been a member of the Academy of Motion Picture Arts and Sciences (AMPAS) for more than 20 years.

Tom Sito joined ASIFA East in 1974, and moved over to ASIFA-Hollywood in 1982. Tom has been an animator at most of the major studios, and his credits include classics like Who Framed Roger Rabbit?, The Little Mermaid, Beauty and the Beast, Aladdin, The Lion King, Shrek and many more. Tom co-directed Osmosis Jones, he is president-emeritus of The Animation Guild Local 839. He teaches animation at USC, and as such he is a sought-after lecturer around the world. He is the author of two books: Drawing the Line: The Untold Story of the Animation Unions From Bosko to Bart Simpson and the animation chapter to the anthology Jews in Popular American Culture. Tom became a member of the ASIFA-Hollwood board of directors in 1989, and was elected it's vice president in 1992. He began by creating the ASIFA Evenings With series, where he interviewed past masters like Joe Grant. Dave Tendlar, Bill Melendez, and Maurice Noble. In 1990 he headed the creation of a 100th Birthday Banquet for Betty Boop creator Grim Natwick. This became a gathering of the legendary animation artists from Hollywood's Golden Era. Tom Sito also started the Afternoon of Remembrance for the community to say goodbye to their departed colleagues, which has become an annual ToonTown tradition. He is a member of the SIGGRAPH Historical Committee, WIA, The National Cartoonist Society, and a founding member of ASIFA-Hollywood's Animation Educators Forum. In 2010 Tom was awarded the June Foray Award for a lifetime of service to the animation community.

Charles Solomon has written on animation for the New York Times, TV Guide, Rolling Stone, Film Comment, the Hollywood Reporter, the Manchester Guardian, Amazon.com, and he's a frequent quest on National Public Radio's Day To Day. Solomon has written several fine animation books, including Enchanted Drawings: The History of Animation (1989, reprinted in 1994), The Disney That Never Was (1995), The Prince of Egypt: A New Vision in Animation (1999), and Disney Lost and Found (2008). Enchanted Drawings was a New York Times Notable Book of the Year and the first film book to be nominated for a National Book Critics Circle Award. Solomon has also done animation programming for the Academy of Motion Pictures Arts and Sciences, the 1984 Olympic Arts Festival, the Los Angeles County Museum of Art, and the Annecy, Ottawa and Sundance international film festivals, as well as lectured on animation history and aesthetics at UCLA, USC, CalArts, NYU, the School of Visual Arts, CSU San Bernadino, the California Academy of Science, The Walt Disney Studios (Los Angeles, Orlando and Paris), PIXAR, Turner Animation and DreamWorks Feature Animation and now an interview with Toon In to the World of Animation.

Theresa Wiseman brings a lot of experience to the board, as she has worked within the field of traditional and digital 2D animation as an animator, directing animator, and as timing director. She has transitioned into animating digitally in CG (MAYA).
She is also an active member of  The Academy of Motion Picture Arts and Sciences (AMPAS), The British Academy of Film and Television Arts (BAFTA), The Visual Effects Society (VES), and The Animation Guild (TAG). Caricature of Theresa Wiseman by John Musker.

Danny Young joined ASIFA-Hollywood immediately after moving to Los Angeles in 2008 to pursue a career in animation. After volunteering in various capacities and demonstrating a sincere appreciation for the organization and its intentions, Danny was brought on to help fill a role in outreaching to the video game community. He has also co-established and continues to co-produce the ASIFA-Hollywood Animation Archive Podcast. Professionally, he has had the great opportunity to work on three feature films at Rhythm & Hues since 2008 and is currently realizing his dreams in commercial work at Blur Studios. ASIFA-Hollywood and projects like the Animation Archive have been instrumental in developing and encouraging his potential and have ceaselessly offered the inspiration and motivation to do so. He is more than happy to give back when he can.
#bd081c no-repeat scroll 3px 50% / 14px 14px; position: absolute; opacity: 1; z-index: 8675309; display: none; cursor: pointer; top: 36px; left: 20px;">Save