Members Are Invited To a Preview of #Nickelodeon #Breadwinners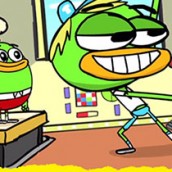 Members of ASIFA-Hollywood are invited to a screening of Nickelodeon's brand-new animated series Breadwinners.
Followed by a Q&A with Rich Magallanes (Senior Vice President, Nickelodeon Animation, Current Series), Steve Borst and Gary "Doodles" Di Raffaele (Creators and Executive Producers of Breadwinners)
WHEN: Tuesday, February 4
TIME: 6:30pm (Appetizers will be served)
WHERE: Nickelodeon Animation Studios
Nickelodeon expands its growing roster of original creator-driven animation with Breadwinners, a brand-new series that follows two booty-shaking ducks as they operate a bread delivery service out of their awesome, jet-fueled Rocket Van.  The 20-episode series, produced by Nickelodeon Animation Studios, premieres Monday, Feb. 17, at 7:30 p.m. (ET/PT).
Information on how to RSVP will be sent to members via email.
Visit www.Nickpress-Breadwinners.com for more information on the series