#Nickelodeon #Breadwinners Screened for #ASIFA Members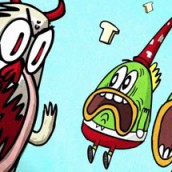 On February 4, Nickelodeon Animation Studios hosted a very special preview of their brand-new animated series Breadwinners. The screening included a Q&A session with Steve Borst and Gary "Doodles" Di Raffaele (creators and executive producers of Breawinners), and Rich Magallanes (President of Nickelodeon Animation, Current Series). Moderated by Jerry Beck, the crew discussed the process of creating a show for Nickelodeon.
Nickelodeon expands its growing roster of original creator-driven animation, a brand-new series that follows two booty-shaking ducks as they operate a bread delivery service out of their awesome, jet-fueled Rocket Van. They live together, laugh together, and get into all sorts of riDUCKulous adventures together on their planet Pondgea.
During the series premiere, "Thug Loaf," when SwaySway and Buhdeuce have to deliver bread to the bad part of Duck Town, they accidentally lock their keys in the Rocket Van and have to befriend a gang of Biker Ducks for help.  Next in "Mine All Mine," SwaySway and Buhdeuce meet the most righteous dude in the planet, the Bread Maker.
"This is our first series to come out of our animated shorts program and we are very proud and excited to bring it to our audience," said Russell Hicks, President, Content Development and Production, Nickelodeon. "Steve and Gary have created a fresh, fun cartoon with great characters and an infectious music backdrop that we think will have kids laughing and bouncing with each episode."
Borst and Doodles discussed their approach to the new show and how they came up with the idea for Breadwinners.
"The idea came from a sketch of a duck in a space suit. After that, I kept drawing ducks and it all started to come together," said Doodles. "I wanted to collaborate on the project and work with Borst who's a very talented writer. Since my strength is drawing, I wanted to work closely with someone who could balance that with great writing"
"We worked on the project after hours and had many long nights over the weekends," said Borst. "It was kind of funny to be hanging out on a Saturday night into the late hours discussing cartoons instead of what most people our ages would do. It was really on us to work those hours, as we were driven by the passion to create compelling content."
"We love that Breadwinners is a classic buddy comedy series that exemplifies the power of a kids imagination," said Magallanes. "It is also inspired from elements in Gary and Steve's personal lives, and because it draws from various gaming, internet and music cultures, the show is relatable yet different and unique."
Magallanes added his thoughts on what they look for at Nickelodeon and creator-driven content. "Be yourself…allow yourself to be yourself. From the passion deep within an individual, take those experiences and keep it positive."
Doodles expressed his perspective on the importance of being an individual in a creative environment. "Be persistent. It's hard to create your own content when you have a job," said Doodles. "Keep practicing your craft. It's important to find out what you're good at and to tap into yourself."
With technology being a big factor in how an audience behaves, the new generation of children were born into a time of current technology that includes iPhones and the internet, and has shaped what they think is important to them.
"They are what we call post-milennials, the newest generation of kids who were born from 2005 to the present, and have a strong affinity for comedy," said Maganalles. "They consider being funny as a badge of honor."
The 20-episode series premieres Monday, Feb. 17, at 7:30 p.m. (ET/PT).
To view Gary Doodle's website click here.
Click on any of the thumbnails below to view the photos from ASIFA-Hollywood's Facebook page.