#Screening for Mr. Peabody & Sherman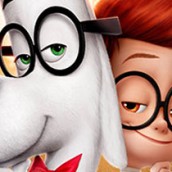 DreamWorks Animation invites ASIFA-Hollywood members and their families (maximum of four guests, please) to a special screening of Mr. Peabody & Sherman.
Sunday, March 9th at 11:00 a.m.
The Zanuck Theatre on the Twentieth Century Fox lot
West Pico Gate
10201 West Pico Boulevard
Los Angeles, CA 90064
Information on how to RSVP will be sent to members via email. Members must RSVP by Sunday, March 7 at 12pm and will be asked to show their ASIFA membership card at the door the day of the event.
Mr. Peabody, the most accomplished dog in the world, and his mischievous boy Sherman, use their WABAC time machine to go on the most outrageous adventures known to man or dog. But when Sherman takes the WABAC out for a joyride to impress his friend Penny, they accidentally rip a hole in the universe! Before they forever alter the past, present and future, Mr. Peabody must come to their rescue. Together, the time traveling trio will make their mark on history.
Rating: PG
Runtime: 82 minutes