#Animation Magazine's World Animation and VFX Summit
The World Animation & VFX Summit took place this past Sunday through Wednesday, and featured panels, discussion and networking with a global array of high-level animation and visual effects professionals, who are creating new business models in animation, VFX, distribution and financing.
The Summit began on a high note on Sunday night with a star-studded awards ceremony that featured voice legend June Foray, Industrial Light & Magic's CCO John Knoll, directors Chris Sanders and Kirk DeMicco (DreamWorks' The Croods), DQ Entertainment CEO Tapaas Chakravarti, and Stoopid Buddy Stoodios' Matthew Senreich, John Harvatine IV and Eric Towner. The ceremony took place at the California Yacht Club in Marina del Rey.
The awards were hosted by voice actor Tom Kenny  who kept the event moving a fast and funny pace. Helping out with the award presentations were Academy Award-nominated actress Catherine Keener (voice of cavewomen Ugga in The Croods), Oscar-winning producer Jon Landau (Titanic, Avatar); executive producer Tiffany Ward (Mr. Peabody & Sherman) and President and CEO of Emmy-winning animation software powerhouse Toon Boom Joan Volgelsang.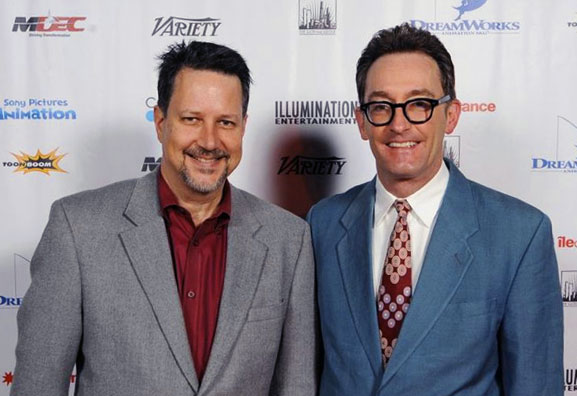 The event was sponsored by DreamWorks Animation, Sony Pictures Animation, Ile de France, Illumination Entertainment, Toon Boom, CelAction, The Gotham Group and Variety.
For more on the event click here.