ASIFA-Hollywood Archive Progress
ASIFA-Hollywood has long been in a position to learn of endangered animation collections and for years amassed a storeroom and warehouse full of materials. By 2011 we recognized that our good intentions had created an untenable situation. Through introductions arranged by Tony Angellotti, Frank Gladstone and Jerry Beck approached the Academy of Motion Picture Arts and Sciences to partner with them in order to give their collection the curatorial attention it deserved.
Initially, two things had to happen simultaneously: sorting the collection and moving it to the Academy facilities. To start, the Academy's project archivist went in and simply began to excavate our storeroom and, later, our warehoused materials, identifying and organizing, transferring items into archival boxes and folders, creating a rough spreadsheet inventory and transferring everything meeting the archive criteria to the Academy's vaults. The Academy has now finished the initial assessment and completed this first phase of work.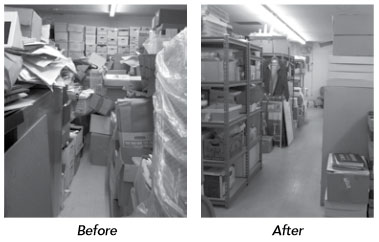 The ASIFA collection will be stored, preserved, cataloged and managed by the Academy's Margaret Herrick Library.As with all of the Academy's collections, it will be available for exhibition in the museum. However, the collection is not yet accessible as an online resource. There is probably another two years of work to do before that happens.
We are well aware that some of the materials ASIFA has gathered over the years, specifically advertising and television animation,does not fit within the Academy's collecting strategy. Another part of our second stage of work, therefore, will be to identify those components and work to find more appropriate repositories for them. Once this second phase is completed, ASIFA's collection at the Academy will be cataloged in the library's online databasesand available to researchers. It's a goal we are very excited to be a part of fulfilling.