Members Screening of Crackle's SuperMansion
Members of ASIFA-Hollywood are invited to a special screening of the all-new stop motion original series SuperMansion.
ASIFA-Hollywood Screening
Thursday, September 24, 2015 at 7:00pm
Raleigh Studios
Charlie Chaplin Screening Room
5300 Melrose Ave.
Los Angeles, CA 90038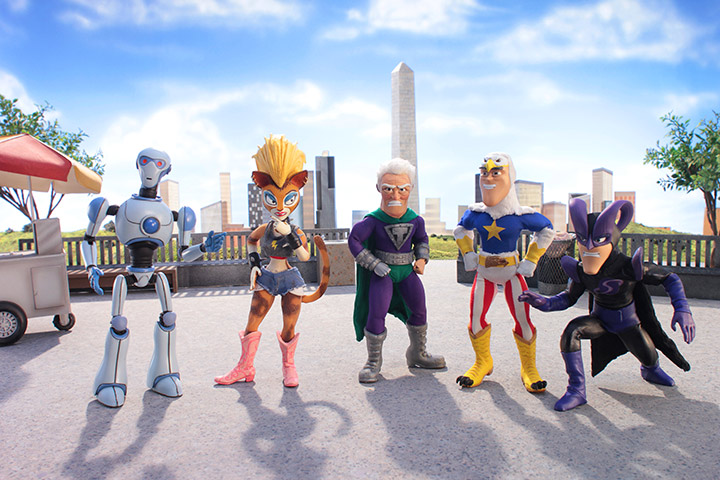 Information on how to RSVP will be sent to members of ASIFA-Hollywood via email. Doors open at 6:00pm. Pizza and refreshments will be provided. (Please note: Some content in "SuperMansion" is not appropriate for children.)
The screening will be followed by a Q&A with series creators Matthew Senreich and Zeb Wells; Helder Sun, Director of Photography; Alex Kamer, Animation Director and Tennessee Reid Norton, Director of Character Fabrication.
---
Titanium Rex (Bryan Cranston) is the leader of a motley band of past-their-prime super heroes who live together in a "SuperMansion." Titanium Rex struggles to live and fight alongside the Millennial-aged, lackadaisical members of The League of Freedom as they battle against arch-enemies and struggle to remain relevant in today's world.
Cranston also serves as executive producer, alongside Seth Green, John Harvatine, Eric Towner and James Degus. The series features the voice talents of Keegan-Michael Key, Jillian Bell, Tucker Gilmore, Tom Root, Heidi Lynn Gardner, and Zeb Wells.
Visit the SuperMansion website by clicking the link below. Follow SuperMansion on Twitter @SuperMansiontv
Crackle – Watch Movies Online, Free TV Shows, & Original Online Series