Members Screening of Storks
Storks deliver babies…or at least they used to. Now they deliver packages for global internet retail giant Cornerstore.com. Junior (Andy Samberg), the company's top delivery stork, is about to be promoted when the Baby Factory is accidentally activated on his watch, producing an adorable – and wholly unauthorized – baby girl. Thus begins a wild journey that could make more than one family whole and restore the storks' true mission in the world.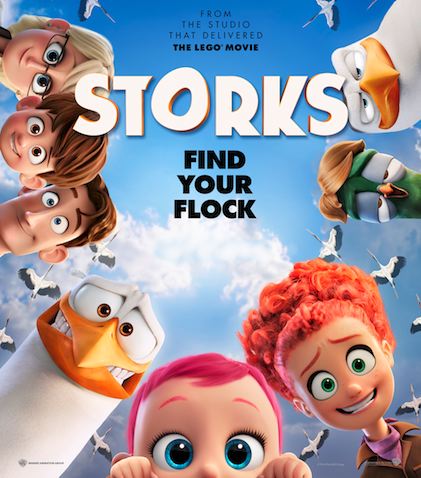 Sunday, September 25
2:00 p.m.
Harmony Gold Theater
7655 Sunset Boulevard
Los Angeles 90046
[vc_gmaps title="Map to Harmony Gold Theater" address="7655 Sunset Boulevard
Los Angeles 90046″ size="300″ type="roadmap" zoom="14″ shadow="yes" width="1/1″ el_position="first last"]
Information on how to RSVP will be sent to members of ASIFA via email.
Rated PG for mild action and some thematic elements. Running time is 89 minutes.
Screenings are occasionally overbooked to compensate for no-shows. Seating will be available on a first come, first served basis. An RSVP does not guarantee seating. Your ASIFA-Hollywood membership card may be asked for at the door.