Remembering Will Ryan
Will Ryan, prolific voice actor, musician, writer and ASIFA-Hollywood past president passed away on November 19 after a short battle with cancer.
In the late 1970s, Will teamed up with Phil Baron, performing as Willio and Phillio. Eventually the team voiced the Teddy Ruxpin and Grubby the Octopede characters for books, recordings and television. After moving to California, Will began to write and record songs for The Walt Disney Company.
Will long running voice roles for the Disney Company include Willie the Giant, Peg-Leg Pete, several characters in the "DuckTales"  and "Disney's Gummi Bears" series. He was also the voice of Tigger and Rabbit and the singing voice of Eeyore on seventeen seasons of "Welcome to Pooh Corner".
Some of Will's noted animated feature roles included Petrie in "The Land Before Time", Herald Seahorse in "The Little Mermaid", Digit in "An American Tail", and Hero in "Thumbelina".
In 2021, Will entered his 34th year as a series regular on the popular radio show "Adventures in Odyssey".
As an author, Will wrote "Duke and Me", a memoir of his career recording for the original "G.I Joe" television series, "Adventures in Oddity", co-authored with Katie Leigh, about their work in radio and television, and "The Tiny Little Book of Cowboy Haiku" from Oxnard University Press.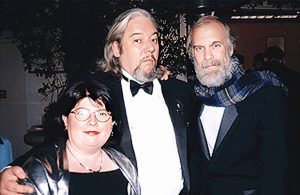 Musically, Will Ryan & the Cactus County Cowboys released five albums. Will wrote over 100 songs for Disney and for the Jim Henson Company that have been sung by dozens of animated characters. The Pointer Sisters, the Saguaro Sisters, Patti LaBelle, and voice-over greats Clarence Nash, Hal Smith, Janet Waldo, Walker Edmistun, Lorenzo Music and June Foray also recorded his songs. Will's recording honors include two Gold Records and a BMI Pioneer Award.
Will's Internet series "Elmo Aardvark: Outer Space Detective!" was the internet's first weekly animated program, winning him an Annie Award in 2001. Will also received a 1998 Emmy nomination as producer of "The Wubbulous World of Dr. Seuss".
Will was a long-time member of the Academy of Motion Picture Arts & Sciences and also served a term as president of ASIFA-Hollywood.
Will is survived by his wife Nancy Niparko Ryan, sisters Patty Ryan and Marsha Ryan Russo, and brother, George Ryan.