Summer Events Delight ASIFA Members
Summer has been a busy time for ASIFA-Hollywood, as there has been no shortage of special events. From screenings with the filmmakers to previews of upcoming television shows, and even our first annual Animation Educators Forum student scholarships, we've been continually programming our schedule so that you, our members, can experience the best in animation.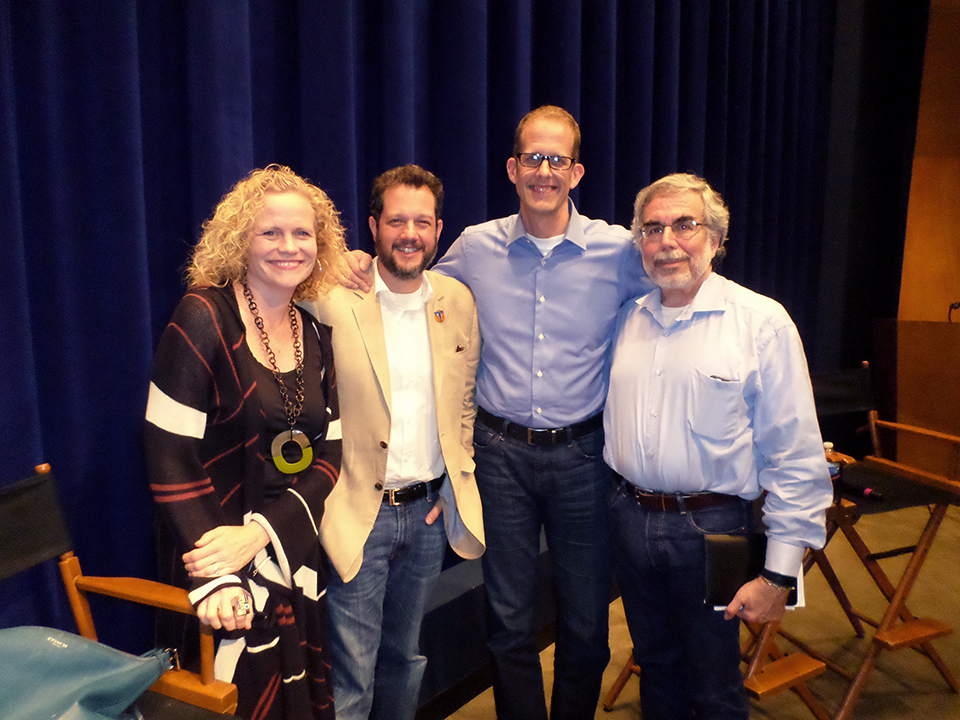 Inside Out crew (l to r): Meg LeFauve, Michael Giacchino, Pete Docter and Charles Solomon
Screenings of Animated Films
Major studio releases were a highlight of the summer and gave members an opportunity to see the films at exclusive screenings. Foreign and independent films like Mune and The Prophet entertained members and gave them a look into inventive storytelling. Large releases like Inside Out and Minions carried on the tradition of cutting-edge animation technology. Some of the screenings included Q&A sessions with principals like Pete Docter and Michael Giacchino, Roger Allers and Salma Hayek, among many others, giving our members a chance to personally interact with the creators of the films.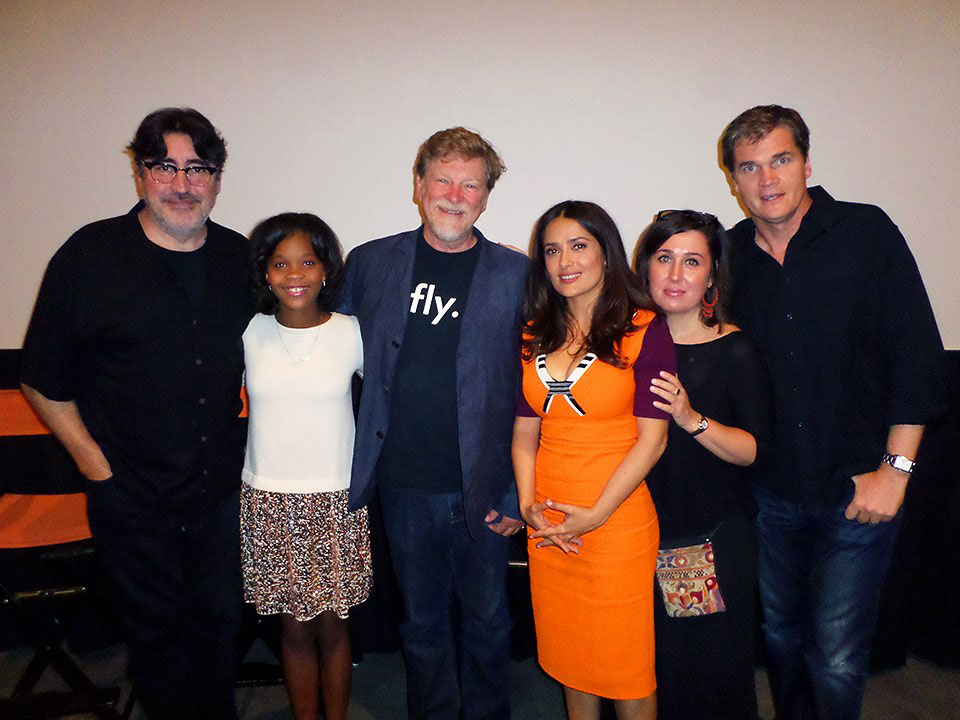 The Prophet crew: (l to r) Alfred Molina, Quvenzhané Wallis, Roger Allers, Salma Hayek, Jamie Kezlarian Bolio and Clark Peterson
San Diego Comic-Con
For the 12th year in a row, ASIFA-Hollywood made an appearance at the San Diego Comic-Con. Once again, the organization became a headlining participant with panel discussions ranging from animated effects in live action productions to discussions on the state of the animation industry.  Moderators Tom Sito and David Derks led spirited discussions with panelists and conventioneers on current trends of animation, the challenges of blending assets to create a seamless production, as well as where the industry is going. Jerry Beck, president of ASIFA-Hollywood and special guest of San Diego Comic-Con, presented the cult favorite Worst Cartoons Ever which has become an annual tradition at the event and has continuously played to a packed house.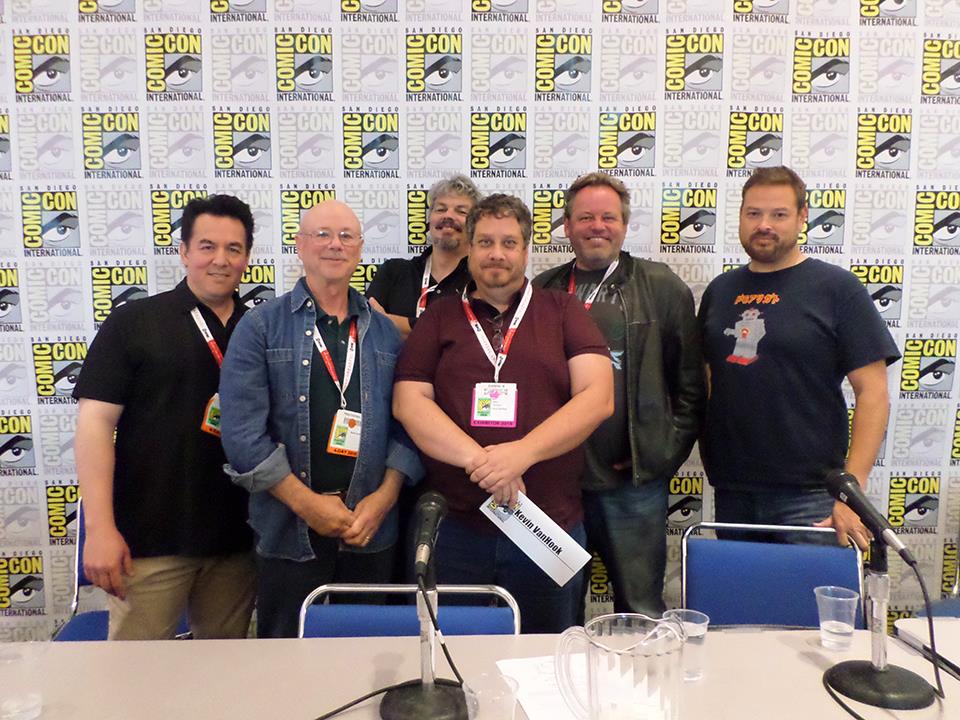 Animated Effects in Live Action panel crew: (l to r) David Derks, Michael Hofstein, Ian Hunter, Kevin VanHook, Adam Howard and Peter Hyoguchi. Photo courtesy of Frances Dijkhuis Jones.

Special Previews of Television Shows
Nickelodeon Animation Studios opened their doors to members at both New York and Los Angeles for a behind-the-scenes look at their new show Pig, Goat, Banana, Cricket. The screening in Los Angeles was followed by a Q&A with series co-creators and co-executive producers Dave Cooper and Johnny Ryan, and executive producer David Sacks.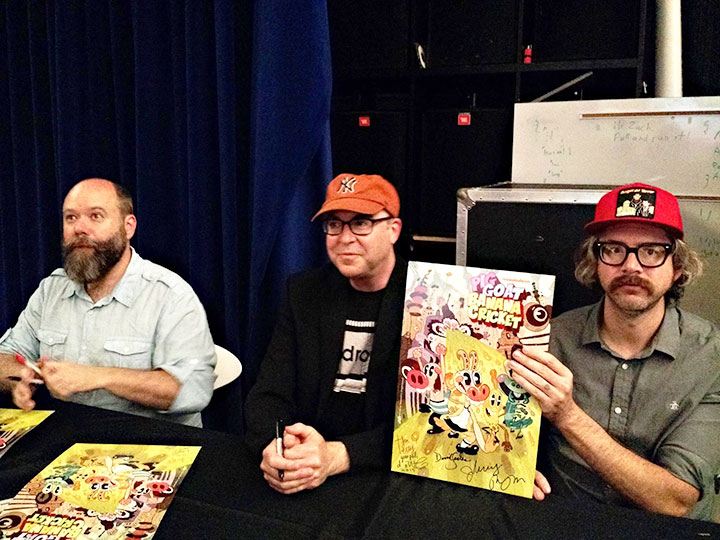 Pig Goat Banana Cricket crew: (l to r) Dave Cooper, David Sacks and Johnny Ryan. Photo courtesy of Terry Flores.

DreamWorks Animation TV previewed their Netflix productions Dragons: Race to the Edge and Dinotrux. In attendance for the special Q&A were Art Brown & Doug Sloan, Executive Producers, Dragons: Race to the Edge; David Jones, Visual Effects Supervisor, Dragons: Race to the Edge; Ron Burch & David Kidd, Executive Producers, Dinotrux and Randy Dormans, Supervising Producer, Dinotrux.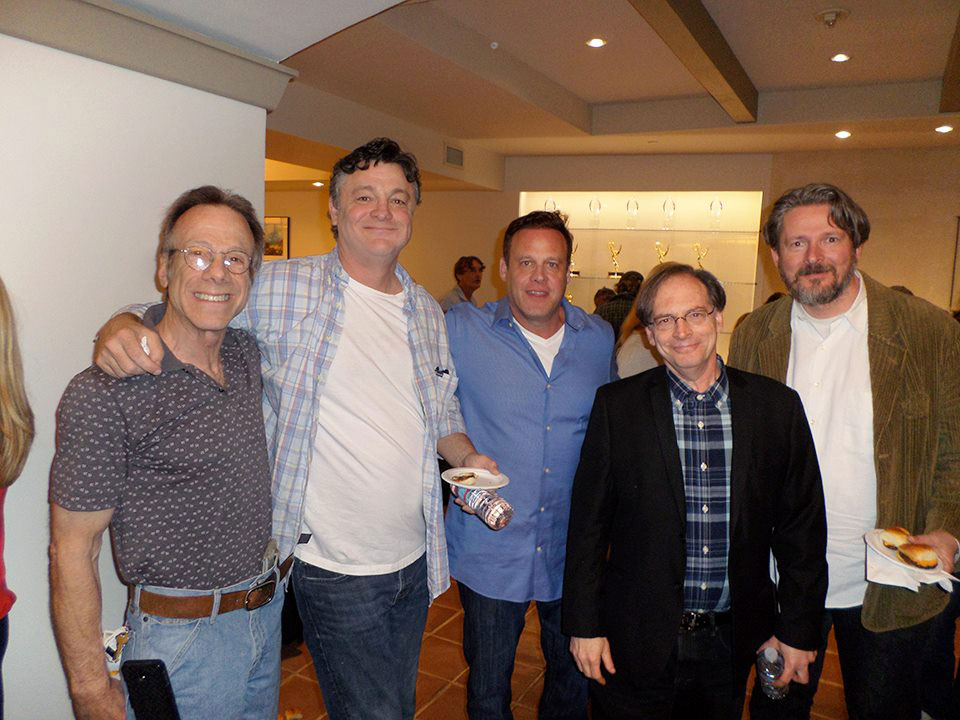 At DreamWorks' Animation TV's presentation for Dragons: Race to the Edge and Dinotrux: (l to r) Frank Gladstone, Art Brown, Douglas Sloan, Jerry Beck and David Jones
Animation Educators Awards Students with College Scholarships
ASIFA-Hollywood and the Animation Educators Forum (AEF) proudly announced the recipients of the 2015 AEF Scholarships. From a pool of 113 applicants, three were selected for the $5,000 scholarship and six were selected for the $2,500 scholarship. Scholarships are merit-based and designed to support college students in continuing their education in the field of animation. The awards may be applied to tuition, books and supplies, animation hardware or software and senior or graduate thesis production.
The $5,000 recipients were Tomek Pilarski, University of Arts, Poland; Alan Huynh, California State University, Long Beach; and Anastasiia Platoshyna, Sheridan College. The $2,500 recipients were Michael Trikosko, Ringling College of Art and Design; Eustace Ng, Sheridan College; Michael Linhart, Griffith College; Sarah Chalek, MOPA; Joanna K. Stopyra, Academy of Art University; and Tiffany Rodriguez, CalArts.
There's More To Come!
ASIFA-Hollywood will continue to showcase the art in animation through the remainder of 2015 with more screenings, special events and the kick-off for the Annie Awards. ASIFA-Hollywood, the largest of an international network of chapters, supports a range of animation initiatives though its membership.
Be sure to visit ASIFA-Hollywood's Facebook, Twitter and Tumblr pages for updates on screenings and events!