The Thief and the Cobbler Premieres at #AMPAS
On Tuesday, December 10, The Academy of Motion Picture Arts and Sciences (AMPAS) hosted the first public screening of Richard Williams's original version of The Thief and the Cobbler.
Richard Williams returned to Los Angeles from the U.K. to present The Thief and the Cobbler, which has been newly reconstructed from his original workprint from May 13, 1992. The lavish and exquisite film, which follows a young cobbler on a daring adventure in ancient Persia, was a rare delight for animation novices and aficionados alike.
What made the screening of The Thief and the Cobbler special was not just the packed theater of young artists, students and fans who came to witness some film history. Also, all the animation notables who came to see the film: Eric Goldberg, Chris Wedge, David Silverman, Phil Roman, June Foray, Art Leonardi, Theodore Thomas, Charles Solomon, Bob Kurtz, 96-year old Looney Tunes painter Martha Sigall, Mark Kausler, John Musker, Dick Wiliams' daughter Claire Williams, and many more.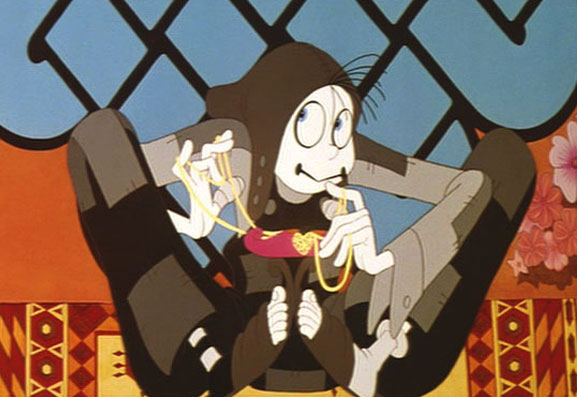 The film, loosely influenced by Persian miniatures, has become a legend in the animation industry. Williams began this ambitious film in 1968, and over the next 25 years, collaborated on it with such animators as Ken Harris and Emery Hawkins from Warner Bros., as well as Art Babbitt from Disney and Grim Natwick, the creator of Betty Boop. The film was originally self-financed by Williams, but after he received two Academy Awards® in 1988 for Who Framed Roger Rabbit, Williams was able to secure additional external finances so that the film could be completed. The investors ultimately pulled the project from him and it was completed by other animators. The resulting film was released in different versions under the titles The Princess and the Cobbler and Arabian Knight.
The event also included a special screening of Williams's Academy Award®-winning short A Christmas Carol (1971).