Annecy Gets Ready for June Event
The Annecy International Animation Film Festival (Festival International du Film d'Animation d'Annecy, abbreviated as AIAFF) was created in 1960 and is scheduled to take place June 15 through June 20 in the town of Annecy, France. Originally organized to occur every two years, the festival became an annual event in 1998. It is one of the four international animated film festivals sponsored by ASIFA International.
This year, the festival will focus on women working in animation and spotlight their contributions and growing importance in the history of animation. This tribute will include:
an exclusively female jury,
the festival poster created by a female animator,
programs of films created by women,
and films made by students from GOBELINS, l'école de l'image, paying tribute to pioneering women in animation including: Lotte Reiniger, Mary Blair, Joy Batchelor, Mary Ellen Bute, Alison de Vere, Evelyn Lambart and Claire Parker.
The festival will showcase some of the best work the animation field has to offer from around the world. The Prophet , directed by Roger Allers which includes work from nine of the biggest names in animation, is set to premiere as the opening film at the festival.
In addition to the competing films being presented in various venues throughout the city, an open-air night projection is organized on Pâquier in the center of town. On Saturday evening, all the award winners are presented. The event also has very special screenings and programs which includes previews of upcoming studio and independent films and projects.
The Bonlieu Cultural Center is now open to festival attendees
The Bonlieu Cultural Center has been closed for the past two years but has recently reopened and will allow the Festival to come back again for Annecy 2015. The closure included a complete makeover and the venue has been expanded to offer over 9,000 m² of space for cultural events! During the film festival, you'll have an opportunity to discover the new screening theaters and meeting areas, which will make a handsome addition to the event.
Official Selection
This year's Annecy Festival beat prior records for the number of submissions with 2,606 films sent in from 95 different countries, including 73 features.
Check out the feature films in the Official Selection:
---
Competition Selections
Adama

 

by Simon Rouby (France)
April and the Twisted World (Avril et le monde truqué)

 

by Franck Ekinci, Christian Desmares (France)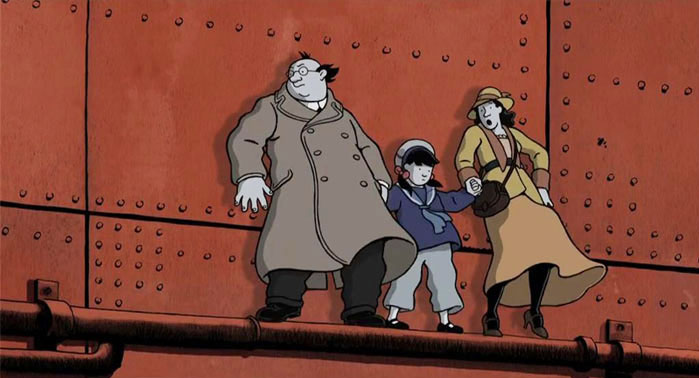 Long Way North

 

by Rémi Chayé (Denmark, France)
Miss Hokusai

 

by Keiichi Hara (Japan)
Mune

 

by Alexandre Heboyan, Benoît Philippon (France)
Possessd (Pos eso)

 

by Samuel Orti (Spain)
Sabogal

 

by Juan José Lozano, Sergio Mejía Forero (Colombia)
The Case of Hana & Alice

 

by Shunji Iwai (Japan)
---
Out-of-Competition Selections
Banished

 

by Diego Guerra (Colombia)
Eden's Edge

 

by Gerhard Treml, Leo Calice (Austria, USA)
Eden's Edge

 

by Gerhard Treml, Leo Calice (Austria, USA)
Extraordinary Tales

 

by Raúl Garcia (Belgium, Spain, USA, Luxembourg)
Little from the Fish Shop

 

by Jan Balej (Czech Republic, Slovakia, France)
Mortadelo and Filemon: Mission Implausible (Mortadelo y Filemón contra Jimmy el Cachondo)

 

by Javier Fesser (Spain)
Rocks in My Pockets

 

by Signe Baumane (USA, Latvia)
Stand By Me Doraemon

 

by Takashi Yamazaki, Yagi Ryuchi (Japan)
The Snow Queen 2

 

by Alexey Tsitsilin (Russia)
The lists of short films, TV series and specials, commissioned and graduation films in competition, as well as the shorts out of competition have already been announced.
For more information on the upcoming festival, be sure to check out the 2015 press kit.