WonderCon returns to the Anaheim Convention Center the weekend of March 24 through March 26, 2023, and ASIFA-Hollywood will be there! Join us for this unique convention filled with everything you love: comics, movies, animation, books and authors, collectibles, anime screenings, portfolio reviews, and games!
Be sure to visit us in booth #1610 and attend our panels: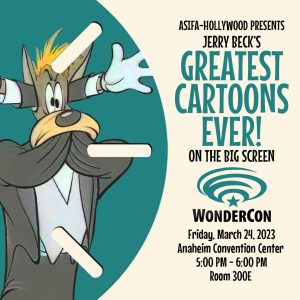 The Greatest Cartoons Ever!, Friday, 3/24/2023, 5:00 PM – 6:00 PM, Room: 300E – Get your popcorn ready and see Bugs, Popeye, and other animated superstars on the big screen! Animation historian Jerry Beck will introduce the iconic and most notable theatrical shorts from Hollywood's legendary golden age. Films include Max Fleisher's Superman in Magnetic Telescope, Tex Avery's Little Rural Riding Hood, Popeye classic Goonland, and Chuck Jones' Looney Tunes classic Duck Rabbit Duck – and more!
Visit the panel's page in WonderCon's official online schedule: The Greatest Cartoons Ever!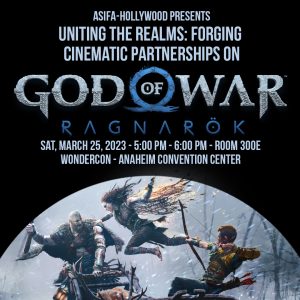 Uniting the Realms: Forging Cinematic Partnerships on 'God of War Ragnarök,' Saturday, 3/25/2023, 5:00 PM – 6:00 PM, Room: 300E – How did Santa Monica Studio create over five hours of sophisticated and unforgettable cinematics for God of War Ragnarök? The answer: with a lot of help! Animators and technical artists from Santa Monica Studio and PlayStation Studios Visual Arts will deep dive into the partnership that brought the tale of your favorite axe-wielding dad and his "boi" to life. Panelists include Bruno Velazquez (animation director), Umberto Bossi (animator), Tom Bland (animation supervisor), Eddie Contreras (lead motion capture technical animator), Jeff Price (mocap studio tech), and Ryan Beeson (mocap studio tech), with Erica Pinto (lead animator, ASIFA-Hollywood board member) moderating.
Visit the panel's page in WonderCon's official online schedule: Uniting the Realms: Forging Cinematic Partnerships on 'God of War Ragnarök'