ASIFA-Hollywood at Wondercon@Home
The beginning of the "convention season" for 2021 will be continuing with the virtual format.
In an ideal world, the end of March/beginning of April would have had thousands of genre fans gathering in Anaheim for the 2021 edition of WonderCon. As part of the Comic-Con International family, WonderCon is a celebration of pop culture, which includes all forms of animation. WonderCon@Home, as it's being dubbed, is set to take place from March 26-27.
To continue our relationship with the Comic-Con International organization, ASIFA-Hollywood will be presenting two virtual panels that will be viewable the weekend of March 26, 2021. One of the panels, New Technology Leaps for Comic Book Visual Storytelling, will feature panelists from some of the best media companies in entertainment, and will be co-hosted with the Infinity Festival, THE THIRD FLOOR, Deluxe 3D LLC. & Deluxe Animation Studio (Stereo D) and Arcana. The other panel, Animation Superstars, will feature some of the brightest talents in the animation industry.
Be sure to visit WonderCon@Home during March 26 and 27 to view our panels, as well as other panels from your favorite creators of movies and TV shows.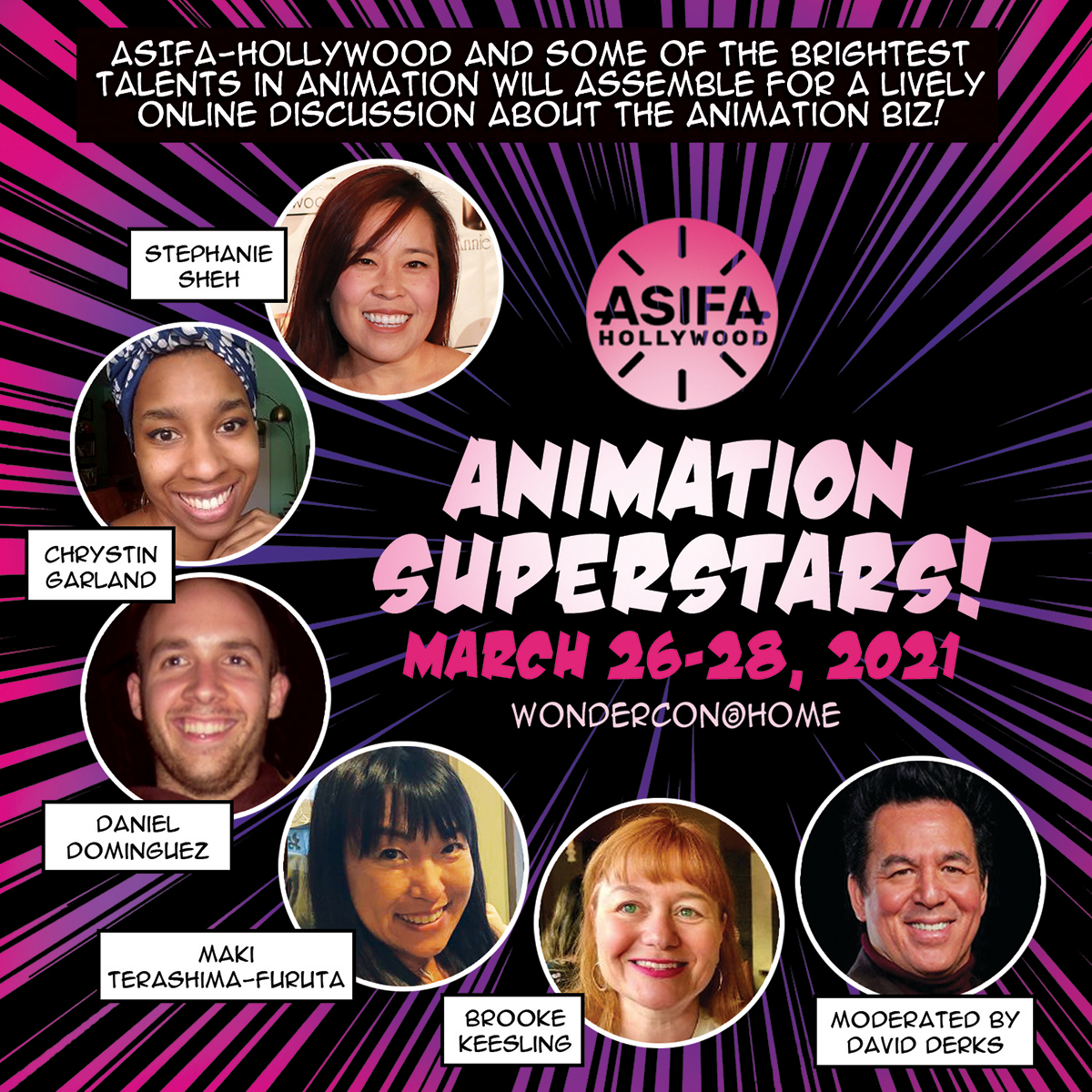 Animation Superstars: Animation's Dominance in Film, TV, and Streaming 
ASIFA-Hollywood will discuss the animation industry as it evolves due to technology and social change during the current pandemic, and its ability to thrive and create more jobs than ever! Panelists will include moderator David Derks (vice president, ASIFA-Hollywood), Stephanie Sheh (voice actor/writer/producer, Netflix, GKids), Maki Terashima-Furuta (anime producer, Production IG USA), Chrystin Garland (visual development, Netflix), Daniel Dominguez (executive producer/showrunner, Netflix) and Brooke Keesling (head of animation talent development, Bento Box).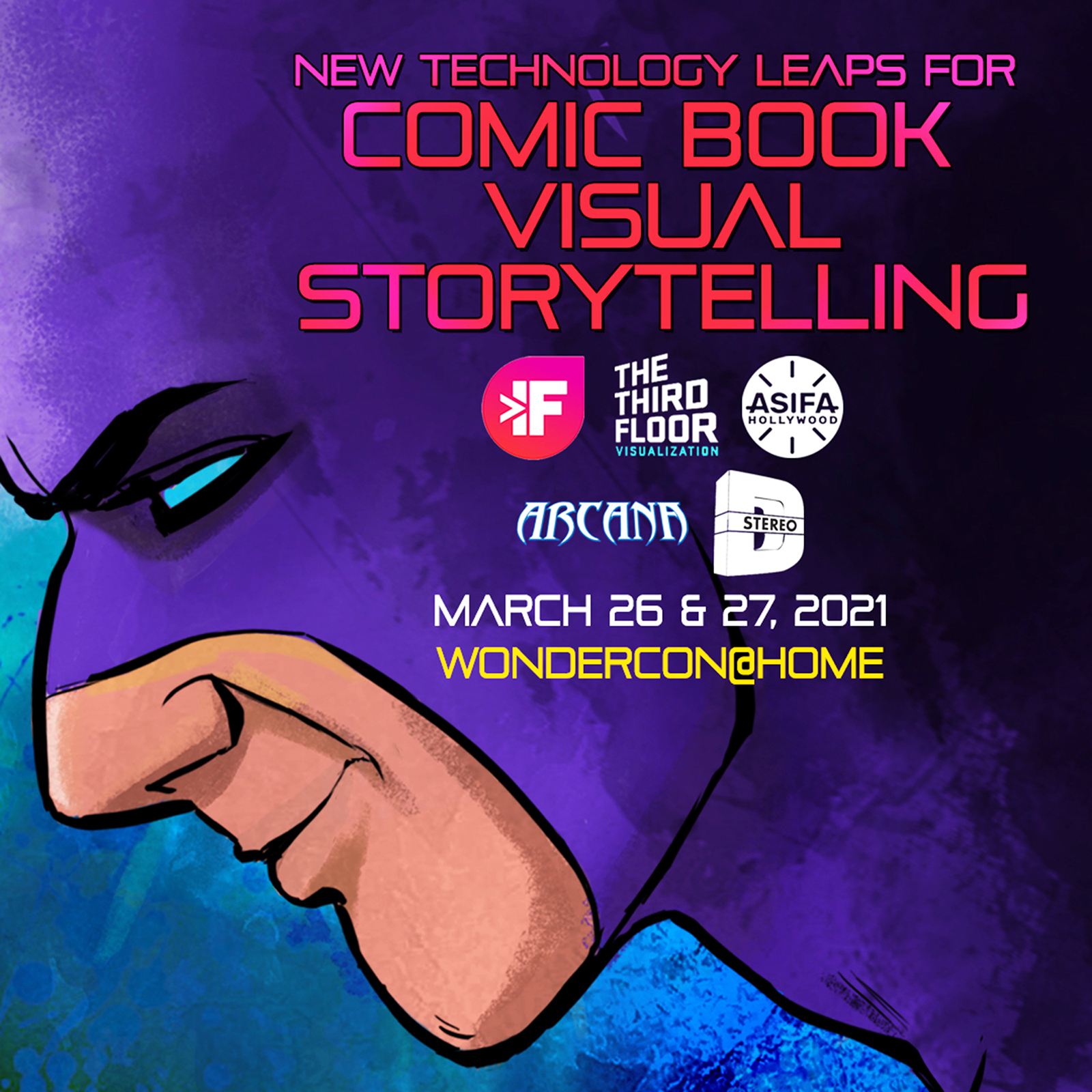 New Technology Leaps for Comic Book Visual Storytelling 
Superheroes abound in gaming, film, streaming and theme park attractions. Join our panel of subject matter experts as we weigh in on the incredible expansion of comic book genres within a fan-driven culture. We'll discuss the various approaches and technology leaps that help bring projects like Alita: Battle Angel, The Boys, Wonder Woman, The Mandalorian and more to your personal and public screens. Panelists will include moderator Lori H. Schwartz (Curator, Infinity Festival), Sophia Yu (Visualization Supervisor, The Third Floor), Sean Patrick O'Reilly (CEO & Founder, Arcana), Dane Allan Smith (Vice President, The Third Floor), Liz Montes (Head of Production, The Third Floor), Johanna Atilano (Business Development, The Third Floor) and Aaron Parry (Executive Vice President and Chief Creative Officer, Deluxe 3D LLC. – Stereo D and Deluxe Animation Studio).
Presented by ASIFA-Hollywood and Infinity Festival in Association with THE THIRD FLOOR.
Infinity Festival • infinityfestival.com
THE THIRD FLOOR • thethirdfloorinc.com
Deluxe 3D LLC. & Deluxe Animation Studio (Stereo D) • stereodllc.com
Arcana • arcana.com • arcanacomics.com