Happy #Thanksgiving from #ASIFA-Hollywood
by Tom Sito
Since the earliest recorded times societies had harvest festivals to give thanks to the appropriate deities that they're not going to starve come winter. Whether or not you believe in 1626 Pilgrim Gov. Winthrop invited Massacoit and his Wampanoag Indians to dinner, the custom of Thanksgiving was a New England holiday for decades thereafter. A few years later the New Englanders exterminated these same Indians and stuck the head of Massacoits son King Phillip on a post.
In 1789 George Washington had called for a thanksgiving celebration in late November to celebrate the new Constitution but the holiday didn't really become an annual custom until the Civil War. Sarah Hale the editor of the Ladies Magazine, the Martha Stewart of her time, had been lobbying the US Government to make the New England custom a national one.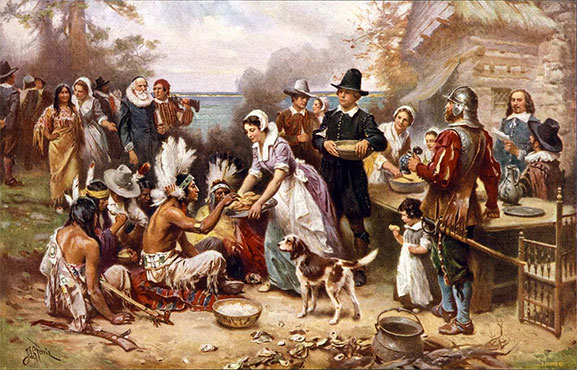 In 1864 after the capture of Atlanta and Mobile Bay it looked obvious that the Union was finally going to win the Civil War. President Lincoln issued a decree that the last Thursday of November be set aside as a feast of national Thanksgiving –Old Abe had just won his re-election so he had lots to be thankful for as well. As blue clad troops chowed down on their turkey and chicken dinners the Confederates withheld their fire in honor of the new Yankee holiday. To this day Thanksgiving is still declared by Presidential decree, probably buried somewhere in the back of today's newspaper.
All of us here at ASIFA-Hollywood wish you and yours a very happy Thanksgiving!
Tom Sito is a professor at USC School of Cinematic Arts, an animator (known for his work on The Little Mermaid, Beauty and the Beast, Aladdin, The Lion King, Pocahontas, Shrek and Osmosis Jones), and is currently a board member of ASIFA-Hollywood. Tom was president of the Motion Picture Screen Cartoonist's Local 839 (later renamed The Animation Guild, I.A.T.S.E. Local 839) from 1992 to 2001.