Patrick Warburton to Host 41st #AnnieAwards
TV, film and voice actor, Patrick Warburton, will host the 41st Annie Awards on Saturday, February 1, 2014 at UCLA's Royce Hall.  With his squinty eyes and hard-boiled detective's voice, Warburton's humorous personality seems to generate laughs with almost no effort.
"We are really excited to have Patrick hosting this year's ceremony," says ASIFA-Hollywood's Frank Gladstone. "With his love of animation and deadpan comedic style, we know he will keep the show lively, funny and very entertaining."
Warburton quickly became a popular semi-regular in the hit TV series Seinfeld, as Elaine's on-again-off again boyfriend. After Seinfeld, he provided the voice for Superman in a series of commercials and  contributed his voice to characters on  Family Guy, Hercules, and Buzz Lightyear of Star Command and as Kronk in Disney's feature, The Emperor's New Groove. Warburton then did a star turn as The Tick, a muscle-bound but dimwitted superhero. High-profile projects have also included the ensemble farce Big Trouble and Agent T alongside Tommy Lee Jones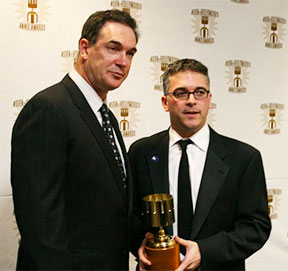 and Will Smith in Men in Black 2 as well as a variety TV series like and animated features such as Home on the Range, Chicken Little, The Wild, and Bee Movie. He has had  a successful seven-season run with the prime-time sitcom Rules of Engagement, and appeared in Seth MacFarland's directorial debut, Ted. In 2014, Warburton will lend his voice talent in the new Peabody and Sherman film and also Planes 2. 
Tickets for the 41st Annual Annie Awards are on sale now. Advanced VIP tickets are $150 for ASIFA-Hollywood members now through December 31, 2013, and will be $200 starting January 1, 2014. Non-members of ASIFA-Hollywood can purchase a VIP ticket for $250. General Admission tickets are $30 and admit you to the Annie Awards Ceremony ONLY and are only sold through UCLA Central Ticket Office, www.uclalive.org, or www.ticketmaster.com.
Please visit www.annieawards.org for complete details on purchasing your ticket to the Annies!