President #Obama Visits DreamWorks Animation
by Bret Marnell
Today was an exciting day to be working at DreamWorks Animation, as it was our honor and privilege to host the President of the United States.
I can recall many presidential photo-ops that were set up next to automotive assembly lines, grain silos, or at some sort of industrial factory. These are the traditional businesses and jobs that make America. But today, President Obama stopped by to acknowledge the work of the entertainment industry in serving as America's ambassador to the world. He said, "Hundreds of millions of people may never set foot in the United States, but thanks to you, they have experienced a small part of what makes our country special." And he acknowledged that Hollywood has helped shape a world culture, one where the stories that we tell, transmit values and ideals about tolerance, diversity, and overcoming adversity, in a way that has made the world a better place.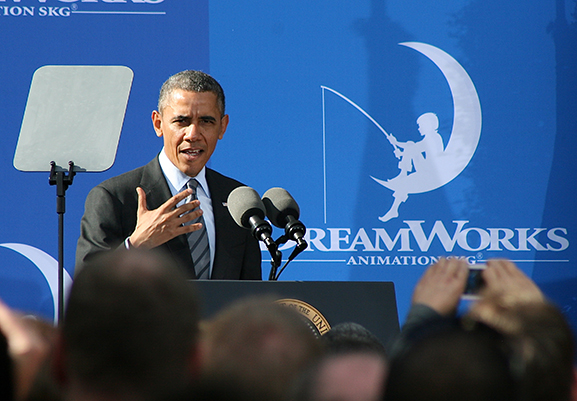 Photo courtesy of Bret Marnell
In a 30-minute speech that touched on many subjects, from job creation, gun violence in film and TV, political gridlock, and immigration reform, the President also praised Hollywood for being one of the economic engines that drives our economy. He talked about the hundreds of thousands of middle class jobs, at Disney, DreamWorks, Warner Brothers, Sony, Universal, and other studios, that create the entertainment products that so many people around the world enjoy.
The President was taken on a short tour that included a visit to the motion-capture stage, where Dean Deblois, the director of How to Train your Dragon 2, showed him some cool looking mo-cap stuff that unfortunately doesn't have a lot to do with how the animators of DreamWorks actually make our movies.  There was also a little meet and greet with Steve Martin and Jim Parsons on our recording stage. These were good photo-ops, but President Obama got the overall picture. He said that even with what he had seen, of animators, and lighters working in darkened work spaces, that it's the stories we tell that matter, and that we should never waver from the commitment to freedom that allows us to tell those stories so well.
Today was a day to inspire; it was a day to remember. It was the day the President of the United States came to an animation studio, to remind us, the lucky few who get to work in the entertainment business, that dreams and hard work matter. Yes… it was a good day.
Bret Marnell is a film editor at DreamWorks Animation and is known for his work on The Ant Bully (2006), Jimmy Neutron: Boy Genius (2001) and Fire in the Sky (1993).
To watch President Obama's speech in it's entirety, click on the video below.