The Year in Review: 2014
2014 proved to be a year of incredible growth for ASIFA-Hollywood as it continued to evolve into an organization that celebrates all forms of animation. Thanks to our corporate sponsors Blue Sky, Cartoon Network, Disney Television Animation, DisneyToon Studios, DreamWorks Animation, Film Romanm 20th Television Animation, Illuminatin Entertainment, LucasFilm Animation, Nickelodeon, PDI, Pixar, Sony Animation, Walt Disney Animation Studios and Weta, we were able to put on many extraordinary events.
The 41st Annual Annie Awards
On February 1st, the year began with the 41st Annual Annie Awards. Patrick Warburton, television, film and voice actor, lent his humor and talent as the ceremony's Host. Joining him on stage were animation legend June Foray, voice actors Bill Farmer who portrayed animation great Winsor McCay, doing his animated 'Gertie the Dinosaur' vaudeville act, celebrating its 100th anniversary, Tom Kenny, Nancy Cartwright and actors Mariska Hargitay, Cloris Leachman, Josh Gad, Ariel Winter and director Rob Minkoff. Also providing presenter duties were Marion Ross, Max Charles, Tony Bancroft, Bob Bergen, and Jim Meskimen.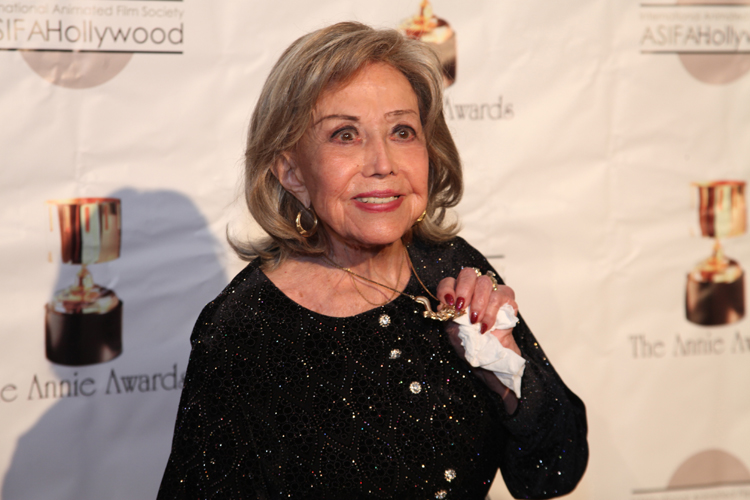 Honored with the Winsor McCay award were Katsuhiro Otomo, Steven Spielberg, who made his video acceptance, and Phil Tippett. The Winsor McCay stands as one of the highest honors given to an individual in the animation industry in recognition for career contributions to the art of animation.
Alice Davis was honored with the June Foray award for her significant and benevolent contributions to the art and industry of animation; Dragonframe received the Ub Iwerks award for technical advancements that made a significant impact on the art or industry of animation; and the Special Achievement award was presented to the CTN Animation eXpo. The Certificate of Merit award was presented to the documentary I Know That Voice.
The ceremony was live-streamed again this year at www.annieawards.org/watch-it-live where animation enthusiasts and those who were unable to attend the event, could watch the show.
Special Television Events
On February 4, Nickelodeon Animation Studios hosted a very special preview of their brand-new animated series Breadwinners. The screening included a Q&A session with Steve Borst and Gary "Doodles" Di Raffaele (creators and executive producers of Breadwinners), and Rich Magallanes (President of Nickelodeon Animation, Current Series). Moderated by Jerry Beck, the crew discussed the process of creating a show for Nickelodeon.
M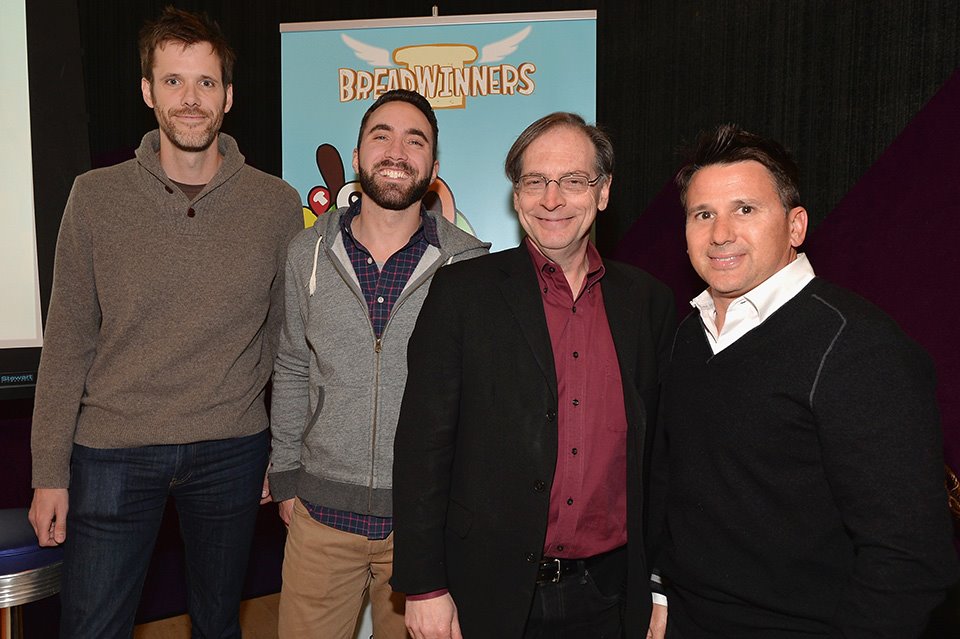 embers of ASIFA-Hollywood were invited to attend a very special sneak peek at the new Disney show The 7D, a contemporary and comedic take on the world of the Seven Dwarfs at the Walt Disney Studios. After the screening, a Q&A session included Tom Ruegger (Executive Producer), Sherri Stoner (Story Editor), Alfred Gimeno (Director) and Maurice LaMarche (Voice of Grumpy).
On November 5th, members of ASIFA-Hollywood were invited to a special event at the Disney Studios celebrating 30 years of Disney Television Animation. Co-sponsored by D23, guests included Bill Farmer (voice of Goofy), Jymn Mogon (Writer, Duck Tales and Darkwing Duck), Rob LaDuca (Executive Producer, Jake and the Never Land Pirates), Bob Schooley & Mark McCorkle (Co-creators, Writers, Executive Producers, Kim Possible), and Paul Rudish (Executive Producer, Mickey Mouse cartoon short).
Shorts and International Festivals
Acme Filmworks and AWN presented the 2014 Oscar® Showcase of 86th Academy Award® Nominated Best Animated Short Films at DreamWorks Animation, with Ron Diamond moderating the Q&A after the screening. Films from around the world were featured and exemplified the diversity of short form animation.
On October 3rd, members of the KLIK! Animation Festival from Amsterdam presented the very best from the 2013 edition of the event at Woodbury University's new state-of-the-art screening facility. Festival organizers introduced their films to a full house that included a hilarious remake of the classic 1950′s Let's All Go to the Lobby.
San Diego Comic Con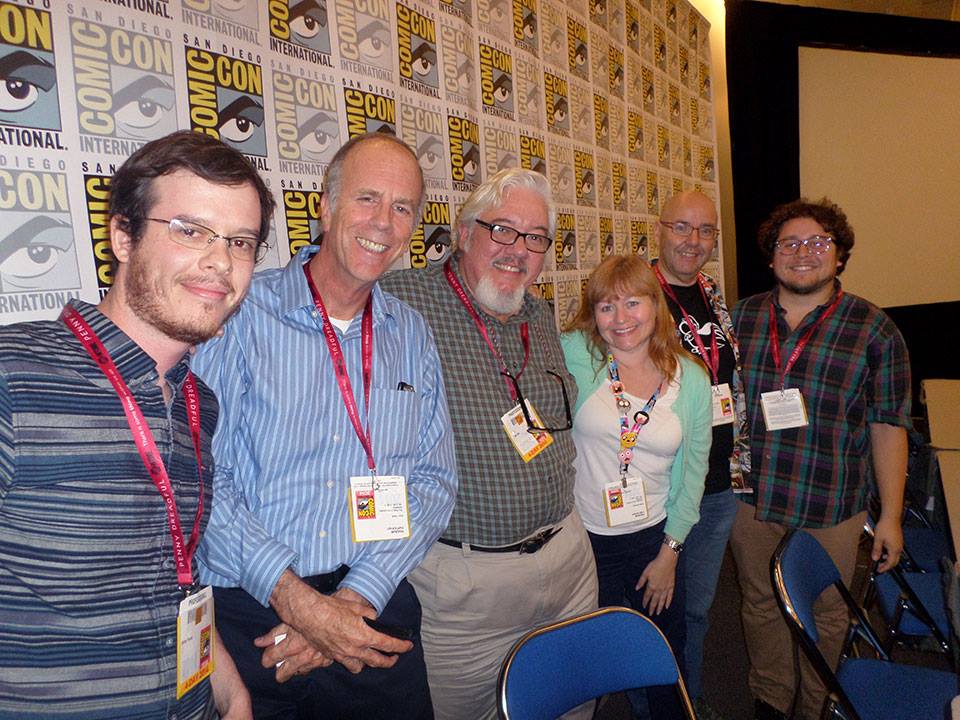 For the 11th year in a row, ASIFA-Hollywood made an appearance at the San Diego Comic Con. The organization became a headlining participant with panel discussions ranging from animation in games, repetition in animated features to discussions on the state of the animation industry. Moderators Tom Sito, Charles Solomon and Danny Young led spirited discussions with panelists and conventioneers on current trends of animation, as well as where the industry is going. Jerry Beck presented a humorous look at animation with The Worst Cartoons Ever which has become an annual tradition at the event and has continuously played to a packed house.
Screenings of Animated Films
Throughout the year, major studio releases were shown at exclusive screenings. Foreign films like The Tale of the Princess Kayuga, Song of the Sea, and Giovanni's Island gave members a look into inventive storytelling, while American releases, while American releases The BoxTrolls, Big Hero 6, The Penguins of Madagascar, Rio 2, The Book of Life, The Hero of Color City, How to Train Your Dragon 2, Cheatin', and Mr. Peabody & Sherman carried the tradition of cutting-edge animation technology. The screenings also gave members a chance to meet and listen to the creators of the films.
Animation Educators Forum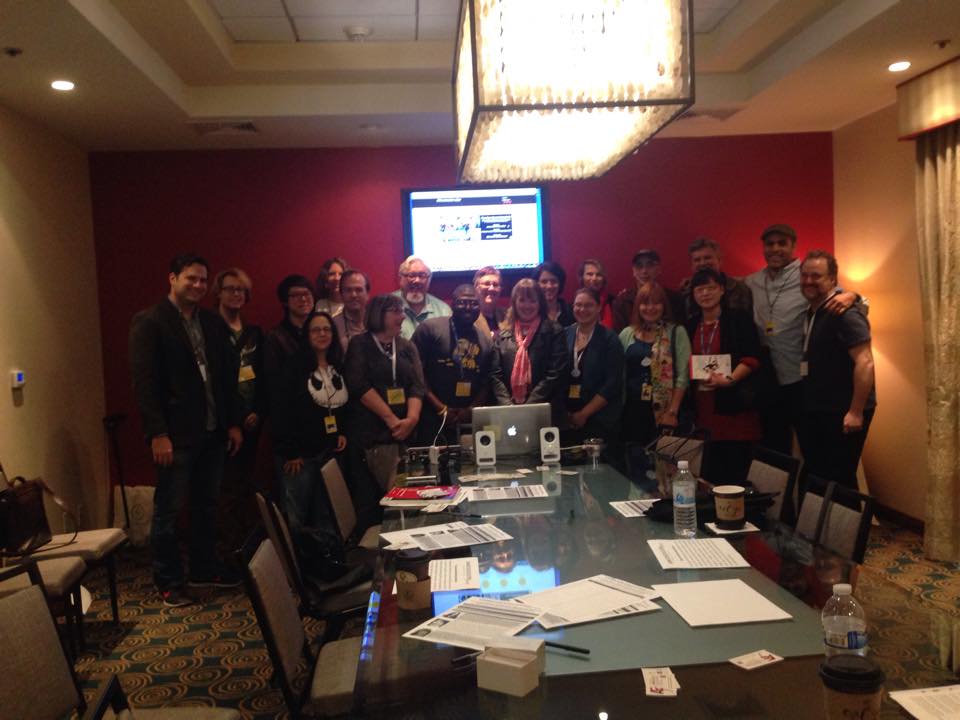 Animation Educators Forum was very active during 2014. On March 14th, they hosted a symposium on Copyright and Fair Use in the fields of art and design. Held at Woodbury University, the session focused on the many things educators can do without infringing copyright or risking liability, both in the classroom and online. Steven J. McDonald, General Counsel at Rhode Island School of Design, was the featured speaker.
On September 26th, the 24-Hour Student Animation Contest taught students much about working together, meeting deadlines and making creative decisions under pressure, and it was a lot of fun for the students.
A Birds of a Feather discussion took place on November 22nd at the CTN Animation eXpo on navigating the open seas of short film distribution called Navigating the Film Festival Maelstrom 2015: What Your Students Should Know About Film Festival, Web Venues and Contests. The attending instructors explored the choices students have when submitting their work.
Digital
2014 was a year of huge growth for ASIFA-Hollywood's online presence on the Internet. From YouTube, Facebook and Tumblr, the digital space proved to be a fantastic opportunity for ASIFA-Hollywood to reach out to its members with original programming, online community discussions and making past events, like the Annie Awards, available for online viewing.
2015 is shaping up to be a very busy year for ASIFA-Hollywood! Screenings, special events and symposiums are currently in the works for its members. ASIFA-Hollywood, the largest of an international network of chapters, supports a range of animation initiatives though its membership.