#Turkey Talk at Free Birds #Premiere
It's not Thanksgiving yet, but Hollywood was already talking turkeys.
On October 12, Relativity Media and Reel FX Animation Studios premiered their film Free Birds, a story of two turkeys from opposite sides of the tracks who must put aside their differences and team up to travel back in time to change the course of history – and get turkey off the Thanksgiving menu for good.
From the red carpet to the after-party bash, attendees were surrounded by the voice cast who were on hand for the celebration.
"It's nice to do a film your kids can see and animated film, I've been lucky to do a few, they kind of last for a while," stated actress Amy Pohler. "If a kid likes it, they'll watch it a millions times in a row."
Jimmy Hayward, whose directorial debut was Horton Hears a Who!, believes the challenge of making a comedy accessible to children and adults isn't a challenge at all.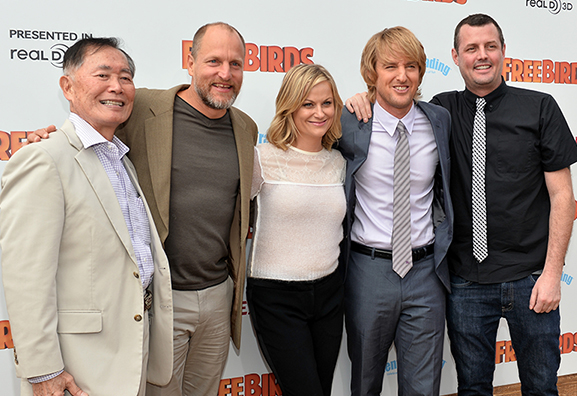 "Our attitude is we make stuff that makes us laugh," he explained. "We just happen to be like 9-year-old boys half the time."
The after party, which was sponsored by Chuck E. Cheese, expanded the universe of Free Birds and gave all family members in attendance a chance to gather together to play games, eat their favorite foods (like pizza, grilled cheese sandwiches and turkey shaped cupcakes), and win prizes at the game booths. Owen Wilson joined the party with his young son, and Woody Harrelson posed with fans for photos.
On Sunday, October 27th at 1:00 pm members of ASIFA and VES will have a chance to see Free Birds in an exclusive screening before the film's November 1 release date. For more information on the screening click here.
The voice cast includes  Woody Harrelson (Jake), Owen Wilson (Reggie), Amy Poehler (Jenny), Keith David (Chief Broadbeak), Dan Fogler (Governor Bradford), Colm Meaney (Myles Standish), and George Takei (S.T.E.V.E.).
Free Birds was directed by Jimmy Hayward, who also helmed the popular 3D cartoon version of Horton Hears a Who! The screen story was co-written by David I. Stern (Open Season 2 & 3) and John J. Strauss (The Santa Clause 2 & 3), with the screenplay penned by Hayward and Scott Mosier (Clerks the animated TV Series); the latter also served as a producer.
Free Birds will open in the U.S. November 1.