Winsor McCay Award: Isao Takahata
Charles Solomon at the 43rd Annie Awards giving the presentation for Isao Takahata. Photo by David Yeh.
The Winsor McCay Award, named for the most influential of character animation pioneers, was the first Annie Award established by ASIFA-Hollywood and is awarded to a maximum of three individuals annually in recognition of lifetime or career contributions in direction, animation, design, writing, voice acting, sound and sound effects, technical expertise, music, education, or for other endeavors which exhibit an outstanding devotion to and promotion of excellence in the art of animation.
The content below was taken from the Annie Awards program booklet.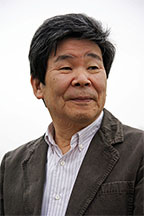 Isao Takahata was born in 1935 in Mie Prefecture, Japan. After graduating from The University of Tokyo, he joined Toei Animation Company, where he directed his first feature, The Little Norse Prince Valiant. He left Toei in 1971 and worked at various studios before co-founding Studio Ghibli in 1985 with Hayao Miyazaki. He has since directed five feature films for the company, including such classic works as Grave of the Fireflies, the Academy Award®-nominated The Tale of The Princess Kaguya, and Only Yesterday, which is being released this year in honor of its 25th anniversary.