Winsor McCay Award: Joe Ranft
The Winsor McCay Award, named for the most influential of character animation pioneers, was the first Annie Award established by ASIFA-Hollywood and is awarded to a maximum of three individuals annually in recognition of lifetime or career contributions in direction, animation, design, writing, voice acting, sound and sound effects, technical expertise, music, education, or for other endeavors which exhibit an outstanding devotion to and promotion of excellence in the art of animation.
The content below was taken from the Annie Awards program booklet.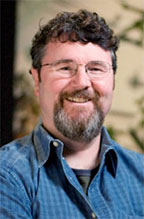 Animation lover Joe Ranft grew up in Whittier, California, and attended CalArts, coincidentally sharing the same interests, hometown and education background of Pixar Chief Creative Officer John Lasseter. A student of several of Disney's great veterans, Joe's career in animated films was also influenced by his deep interest in movies, drawing and performing magic.
Joe was Head of Story on Pixar's first two films, Toy Story and A Bug's Life, and a Story Artist on Monsters, Inc. As Co-Director and Head of Story on Cars, Joe drew on a wealth of skills and knowledge gleaned from his vast experience at Pixar to help create one of the most successful franchises in the history of animated film. Indeed, through the films he worked on prior to Pixar (including 'Who Framed Roger Rabbit?' 'Beauty and the Beast,' 'The Lion King,' and 'Nightmare Before Christmas') and those he helped shape at the Northern California Animation Studio, Joe's incredible talent for story, humor and character has delivered unforgettable cinematic experiences to audiences worldwide.
Joe's engaging talent, love of animation, good humor and humanity were instrumental in helping develop the Pixar Brain Trust which established an approach to story telling that remains integral to the studio to this day. It is for his great contributions to the field of animation – and movies in general – that ASIFA-Hollywood has chosen to honor Joe with the Winsor McCay Award.
The video below is from John Musker's YouTube channel and was originally created as a visualization of anecdotes he heard about his friend and colleague Joe.